How We Survived the Winter + Tiny House Tribe Inspiration
It is the peak of the brutal summer heat. Fond memories of cold weather are becoming more frequent. Remember the refreshing blasts of cold wind and the magical sparkle of freshly fallen snow? Oh and all that fun sledding, snowboarding and snow angel-making. I do, and it sounds fantastic!
Our tiny house travels took us to northern Utah for most of the past winter. This came after kicked off the snowy season with a little snowboarding. We parked just up the street from the Heavenly ski resort in South Lake Tahoe on the CA/NV state line. There we met up with our friend Deon, who we previously met at the 2016 Tiny House Jamboree. He's a snowboarding instructor, DJ and future tiny homeowner. Thanks to him I received some top-quality instruction on the mountain. I was determined to learn to snowboard. Christian is a veteran boarder, and we had high hopes of us enjoying the sport together, all winter. On day three, just as I was starting to get the hang of it, I fell, just the wrong way and on a particularly icy patch. Crack! I broke my wrist.
Fortunately for us, my dear sister Nicole, welcomed us to stay with her family in greater Salt Lake City, as long as we needed to. Staying put was just what I needed to heal and rehabilitate my wrist. This put our tiny living experience, especially as couple, to the test. I spent quite a bit of time on the couch, with my arm propped up. It surprised me at how little I was able to do on my own. Christian literally became my right-hand man. Ultimately the cooperation, patience, and extra TLC strengthened our relationship. And proximity of everything I needed to survive made me truly appreciate my tiny space.
semi-communal housing consisting of a cluster of private homes and a shared community space whose residents share in tasks like childcare
During our two months in my sister's backyard, we formed a temporary community. My sister, Nicole, brother-in-law, Frank, their two young children and Frank's mother, Aleya, all resided in the big house. Our time spent together went beyond the typical family visit. Together we all created an informal mini cohousing community.
The backyard space was communal living space, and we would go in the big house at least two times per day for social visits or to help out. We shared meals together on a regular basis. Christian and I contributed to utility bills, helped with childcare and chores, like shoveling snow (this one was all Christian, due to my wrist). It was rewarding to contribute and to grow closer bonds with my family that I had spent very little time with, in the past several years.
My nephews, Charlie and Luke, loved our tiny house. Visiting us was a daily adventure for them. Luke made his own community contribution by frequently sweeping the snow off our steps and porch. So sweet!
This living arrangement provided us with the best of both worlds, family/community time and the privacy of our own space to work or relax in. The ability to focus was especially important because we were on a tight deadline to complete the edit of Living Tiny Legally, Part 2. Many, many hours and long work days went into this.
Fortunately for us, we could take rejuvenating work breaks by visiting baby Charlie, who was always happy to see us or by having impromptu snowball fights with Luke.
Food for Thought: backyard parking is a practical way to share resources and build community.
How quickly we forget about the not-so fun realities of wintertime? Like slick roads, the endless shoveling and the constant monitoring of our water heater. Living in a tiny house on wheels during the winter months, especially in colder climates like Utah, requires much prep and on-going maintenance.
We learned the hard way. Our first winter in our tiny home was spent mostly in mild climates. In transit to Arizona from Oklahoma, we encountered a bit of freezing weather in the panhandle of Texas, of all places, and in northwestern New Mexico. Our hot water heater froze twice! And our water hoses froze solid. Not a fun way to start the day, take my word for it. It's amazing how quickly our cozy home went from luxurious feeling to inhospitable. We vowed to never let this happen again.
Lesson Learned: a traveling tiny house needs to be prepared for all kinds of weather.
Last Fall we began preparing for the cold weather to come. It is never too soon to start winterizing.
Winter is always coming.
Of course, proper planning begins in the design and build phase. This is where you choose and install insulation, your heat source and roof pitch (critical for extremely snowy climates).
The closed cell spray foam we used in our tiny home is worth its weight in gold. It allows our tiny house to maintain a steady temperature during extreme weather, keeping it moderately cool or warm even without a heating or cooling source. Also it acts as an additional structural component (bonus strength, or like the glue that holds it all together). It also provides some sound proofing. Our tiny house is remarkably quiet, even in loud areas, when all our windows are closed.
Tip: always pay extra for the warranty on your hot water heater!
Most of winter prep is all about protecting your water access. Think hoses, pipes and water heater-- all the ways water enters, leaves and circulates through your tiny house. Depending on the type of hot water heater, this can be placed inside your house or on the exterior. If externally mounted, choose your model and installation method carefully. Some more pricey heaters have a freeze guard, but many models don't. If it doesn't, you need to create shelter for your heater and insulate that shelter carefully, which is what we did.
Winterizing Our Tiny House
Our hot water heater is externally mounted and housed in a vented shed. Additionally, our two 15 lb. propane tanks and water filter are housed in the vented "garage" cabinet.
Christian insulated both using foam board. To prevent freezing, we utilized a very small ceramic heater to keep the actual hot water heater warm, when not in use. The built-in thermostat can only be set as low as 60 degrees. We decided to plug it into an external thermostat that could be set at low 32 degrees. Additionally as a safety measure, the ceramic heater was always set at its lowest setting and would only kick-on at the freezing point.
IMPORTANT Note: we did not use foam board in front of the heater. Instead, fire resistant insulation was used.
For our fresh water, we used a heated hose. This is attached to the water filter, inside the "garage". We laid heat tape across the filter and the connected hoses, then wrapped these in pipe insulation. Also this method was used for the pipes coming out of the hot water heater.
To prevent freezing, Christian ran heat tape along the greywater drainage pipe and hose. Periodically, he would move the greywater hose to keep it from icing up or sticking to the frozen ground.
Beware of Moisture!
It is a good idea to keep an upstairs window cracked and use a dehumidifier to keep to minimize moisture in the house. It worked like a charm for us. Wood stoves also act an excellent dehumidifier-- this what Ariel of Fy Nyth uses. KEEP scrolling for more on this and her off grid tiny living experience in Wyoming.
Here's What We Use...
Insight on off grid living and how to winterize an tiny house in the mountains of Wyoming
At the end of the winter, we bid Utah adieu and made a trek to the wondrous Teton mountain range. We parked just down from our friend, Ariel McGlothin. She is a fiercely independent off-grid tiny house dweller. During our week and half long visit, Ariel shared stories of her Wyoming wintertime experience, where it can get as low as -30, with snowfall as much as 6' deep.
Clearly, our winter was mild compared to hers.
Her tiny home is called Fy Nyth, Welsh for "my nest". Ariel relishes her peaceful surroundings and homesteading experience. For her, it's a very fulfilling life, but it's not what most would consider easy. There is an allure around off-grid living. Many tiny house enthusiasts have a vision of a quaint tiny house in a beautiful landscape with solar panels, rain catchment and all the nifty unplugged, sustainable living set-ups that always work like a charm. It appears to be an idyllic existence, full of simple pleasures.
The harsh reality: it's a lot of hard work and manual labor.
For instance, Ariel must hike up a steep hill to maintain her solar panels. In the wintry months, she must take frequent trips to sweep the snow off the panels. If she doesn't properly take care of them, it could mean running out of power. Ariel's life is filled with ongoing physical chores, like manually filling up her water storage tank and chopping and toting fire wood.
Her self-empowering truth: she truly enjoys the independence her off-grid existence provides and the satisfaction that comes from seeing the fruits of her labors. Literally.
Ariel has a real passion for gardening, preserving and cooking her own food. I can personally attest to her culinary savviness. During our week long visit, Ariel cooked for us almost every night, and every meal was incredibly scrumptious and featured vegetables and meat. In the past couple of years, she has learned to hunt and process wild game, namely elk. This is done with great care and thoughtfulness, just like everything Ariel does.
One elk can produce 150 lbs. of grass-fed, 100% organic meat and last for an entire year, or more. All for a $70 hunting license and many, many hours of sweat equity. The extra TLC she puts into processing, not typical of a bigger meat production, really makes a big difference in the quality and taste. I can personally attest to her flavorful and delicious, not at all gamey, elk steaks. Yum!
Ariel works part-time as waitress and does other odd, freelance jobs. In her downtime, she enjoys wildlife photography, blogging and vlogging about her off-grid life to help empower others looking to make their off-grid dream, a reality. This year she will pay off her Tumbleweed, purchased brand new just three years ago!
Home to Ariel is her cozy nest, the gorgeous Wyoming landscape and her freedom to live life to the fullest, her own way.
Watch this inspiring interview and glimpse into Ariel's home life in the mountains of Wyoming.
PLUS The Lucky Linden Tiny House Tour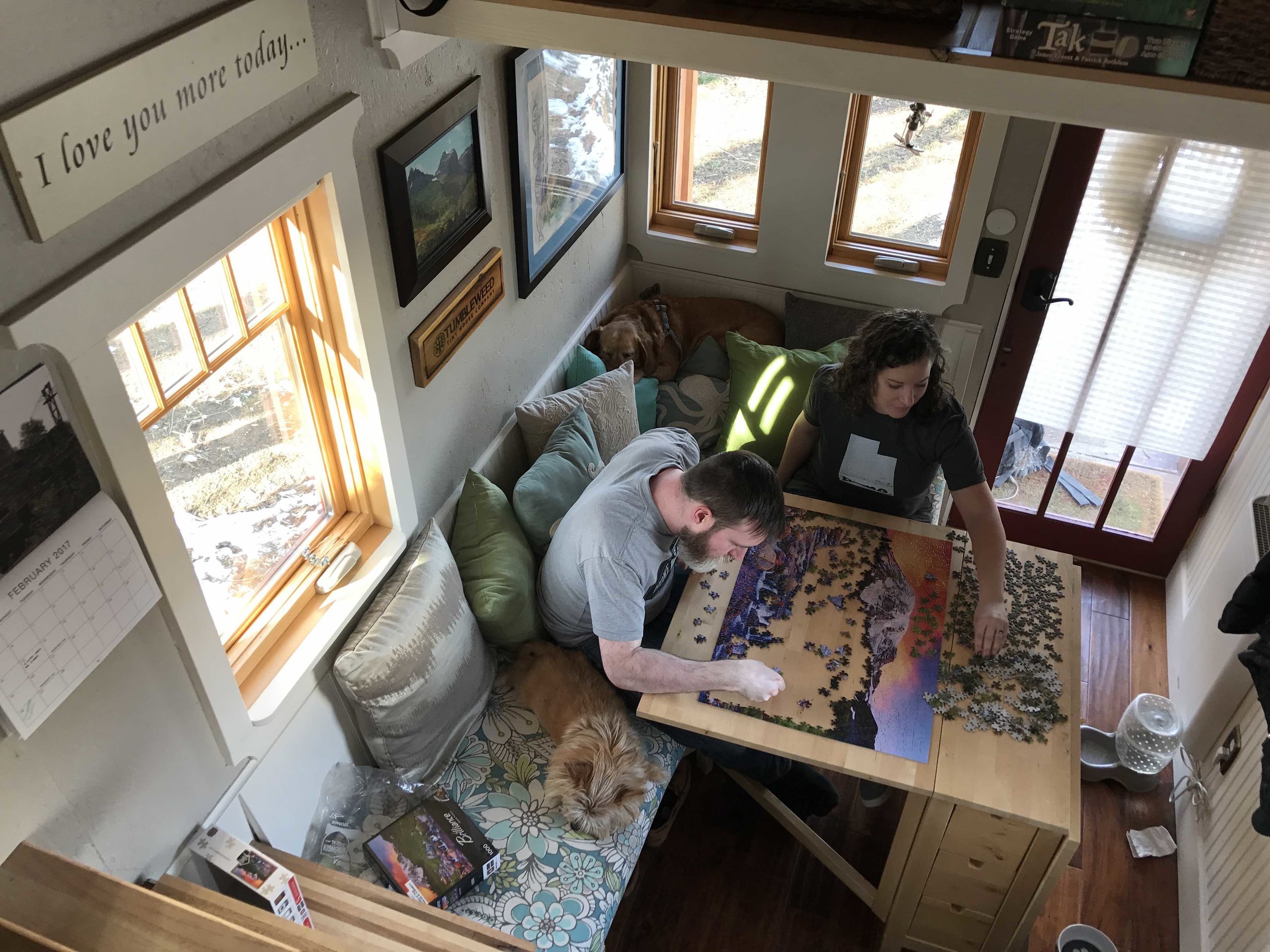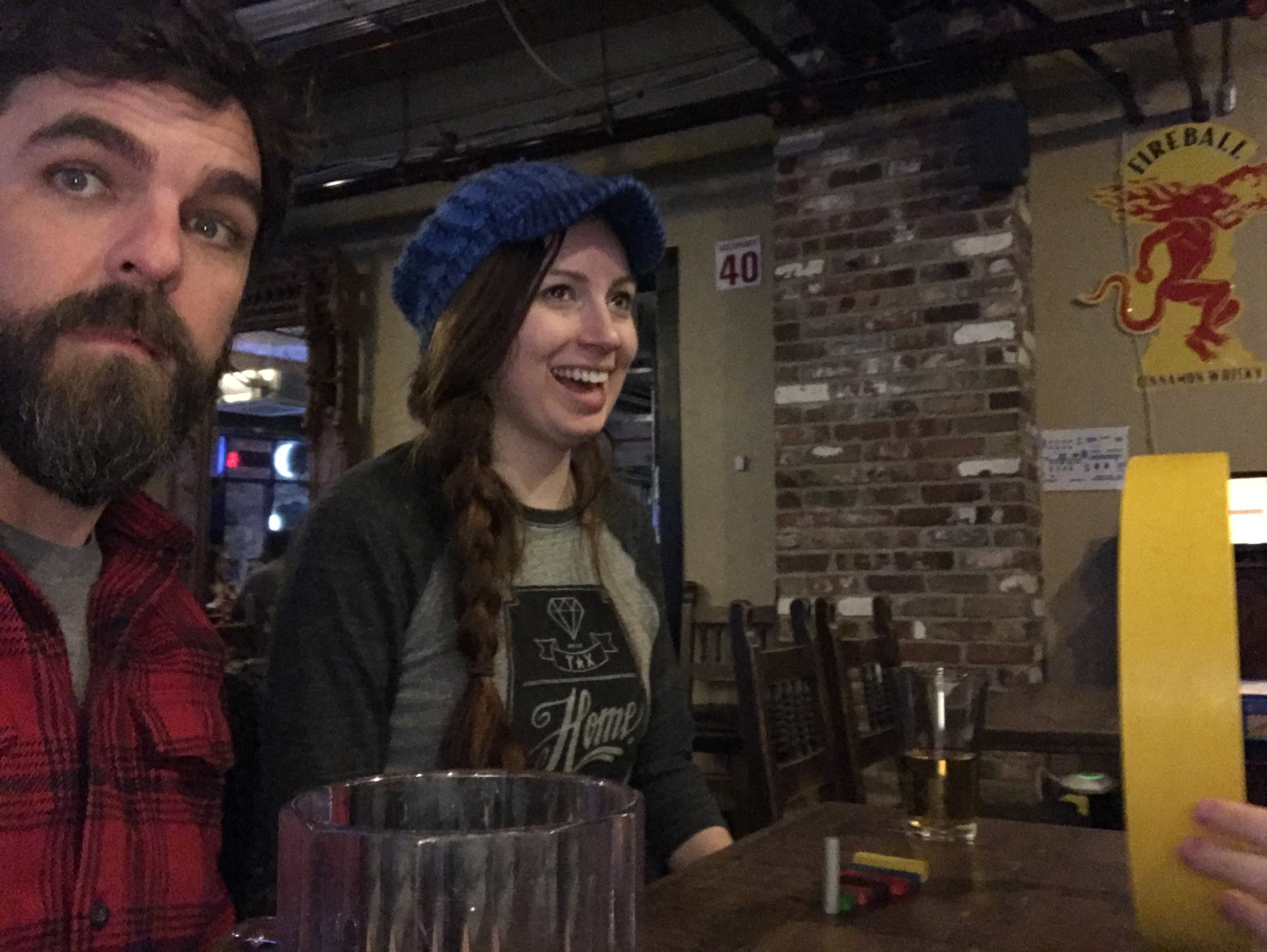 Got questions? Leave a comment below.
-Alexis, Co-Founder of Tiny House Expedition